ELITE CARBON ERA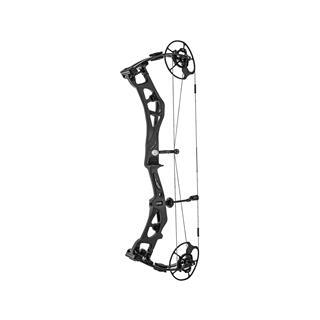 Opis izdelka
Combining state of the art manufacturing with high modulus, hand-laid carbon fiber and the tightest of tolerances, the Elite Era establishes a shooting foundation that has precision control, unparalleled forgiveness and customizable comfort – all while being incredibly strong, yet light.

Axle to Axle: 31.25"
IBO speed: 336fps
Brace height: 7.25"
Bow weight: 3.95lbs
Draw length: 25.5-31"
Draw weight: 40, 50, 60, 65, 70lbs

Deliberately designed; the Era integrates Elite's signature dual cage riser which like Elite's highly machined aluminum risers, adds rigidity through key transition areas – where it's needed most while utilizing premium hand-laid carbon to make up the body of the bow's mere 3.95 pound weight and 31.25" platform.
Featuring the NEW SP Cam along with the V2 Micro Mods, shooters can fully create the exact holding weight, draw length, and back wall preference they desire. Operating in perfect synchronization, the SP Cam substantially optimizes the Era's efficiencies for greater performance and the 1" draw length adjustment allows archers to fine tune to their precise draw length.
Poor arrow flight is one of the most common issues archers have that affect accuracy, and many don't even realize it. Often, field points will fly fine while broadheads don't. S.E.T. Technology eliminates the frustrations of tuning a bow by allowing the user to micro-adjust the limb pivot angle which changes the position of the cams (the lean) as well as the lateral position (center shot) to optimize arrow flight.
Elite's next generation of Versa Mods offers even more customization and, for the first time ever, allows archers the ability to fine tune their holding weight down to a single percentile within the 70-90% range.
Fast and silky smooth, the Era boasts speeds up to 336 FPS and features a forgiving 7 1" brace height. Built for the long haul, the Era allows archers to experience superior accuracy and strength on a lightweight and compact package that's warm to the touch.